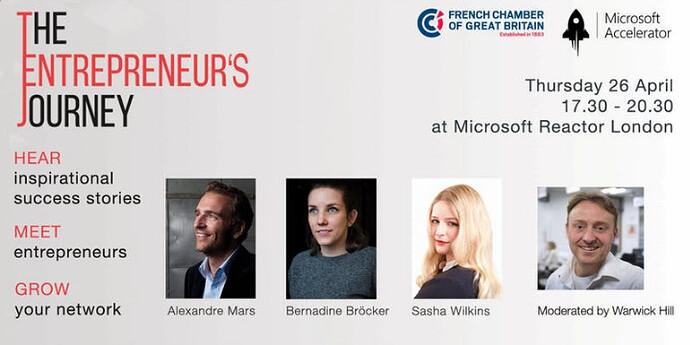 Guest speakers: Alexandre Mars, Founder and CEO of EPIC, Bernadine Bröcker, Founder & CEO of Vastari & Sasha Wilkins, Founder, LLG & Co
Moderator: Warwick Hill, CEO-in-Residence of Microsoft Accelerator
Host partner: Microsoft Accelerator
Alexandre Mars, Founder & CEO of EPIC
Alexandre Mars is a serial entrepreneur and engaged philanthropist. Over the past 15 years, he has launched and sold several companies in Europe and North America in a variety of industries including venture capital, internet, mobile marketing, social media and digital advertising. His last two startups, Phonevalley (the largest global mobile marketing agency) and ScrOOn (a leader in social media management system), were sold to Publicis Groupe and Blackberry.
Bernadine Bröcker, Founder & CEO of Vastari
Bernadine Bröcker, CEO at Vastari, an online platform securely connecting private collectors of art, exhibition producers, venues and museums for exhibition loans and tours. She is a passionate professional working at the forefront of art and technology for the past 10 years. Originally from the Dominican Republic, she was a founding team member of Trinity House, an Impressionist and Modern gallery in London in 2010. Prior experience in New York includes working at Traffic Creative Management and Ralph Appelbaum Associates.
Sasha Wilkins, Founder of LLG & Co
English style journalist, editor & broadcaster Sasha Wilkins is the founder of the award-winning digital platform LibertyLondonGirl.com, owner of digital consultancy LLGConsults, whose clients include luxury brands and agencies on both sides of the Atlantic, and the bestselling author of the cookbook Friends, Food, Family: Secrets & Recipes from LibertyLondonGirl
Founded in 2006, and writ­ten anony­mously for three years before Grazia revealed her much discussed identity, the LibertyLondonGirl platform covers subjects as diverse as design, motoring, food, interiors, beauty, travel, fashion and philanthropy, as well as its author's thoughts on life, love and everything in between.
About our Moderator
Warwick Hill, CEO-in-Residence of Microsoft Accelerator
Warwick Hill is a New Zealand business executive and currently the CEO-in-Residence and Managing Director of Microsoft Accelerator London (appointed September 2015). He also sits as an advisor to the NHS National Clinical Lead for Innovation as well as the Clinical Entrepreneurial Programme.
Warwick Hill is renowned for successfully building and selling global companies in the digital sector. Most notable is the sale of 3rd Space a Digital Innovations Agency that was bought in June 2013 by the Chinese State Broadcaster, one of the largest media companies in the World.